O & J Growers began in 1992 when Odilon Diaz and Jose Luis Arellano partnered up to purchase a grower and wholesale flower company by the name of Andre Flowers.
Andre Flowers had a warehouse in Encinitas, California and farmland in Baja from which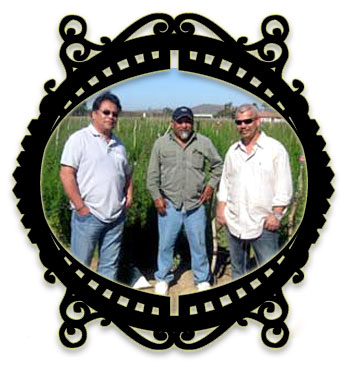 the operation ran. Shortly after the acquisition Andre Flowers the name was changed to O & J Growers.
The early years were extremely difficult. The company started out with an overworked van that had to make deliveries 7 days a week. They also had to deal with a cargo truck that was less than reliable and would occasionally break-down to and from Mexico.
With limited staff and equipment, O & J Growers managed to survive those early years by providing high quality flowers and exceptional customer service. Odilon & Jose's dedication and desire to succeed kept O & J Growers alive by handling many different tasks such as buying, selling, account management and manual labor in Encinitas, while overseeing and running of the farm in Mexico.
After several years of hard work and dedication O & J growers began to grow. In 2002, O& J Growers added a second location inside the Los Angeles Flower District to serve the Greater Los Angeles area. In 2005, O & J Growers becomes a competitor in the National Floral Shipping Industry. O & J Growers ships flowers nationwide using a variety of transportation methods.
O & J Grower's has been upgrading and expanding our facility to accommodate our continuous growth. We have created a new sales office for our sales team as well as expanded our refrigeration system to handle larger volumes of flowers. We are also adding more square footage to the packing, shipping, and receiving department.
O & J has invested in a fleet of dependable delivery trucks and two new semi-tractor trailers to bring us the beautiful flowers from the ranch. At O & J Growers we believe that what you put in is what you will get out and we strive to provide all customers with quality service and support.
Please feel free to contact us and our experienced staff will be happy to answer any questions you might have.